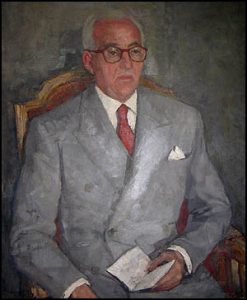 Antonio Menchaca de la Bodega was born in Bilbao on 29 April 1882, the son of Dª Rosario and Dº Antonio, belonged from his maternal side to the Bodega-Quadra family, therefore, he was descent of the navy oficer J. Francisco de la Bodega y Quadra, who discovered the Northwest coast of North America, and whose memory is still present in Columbia, Victoria and Vancouver, cities of the British Columbia of Canada.
He graduated as a lawyer from the University of Deusto, specialising in maritime affairs. He started working for one of the major British companies of the time, Harris & Dixon, whose office was located at 21 Grace Church Street in the City of London. As a result of his training and experience, he became a ship owner prior to the First World War. He owned a cargo motor-sailing ship and a cargo steamer called "Anita".
In 1918, he married Concepción Careaga y Basabe, the daughter of Ambassador Pedro de Careaga y la Quintana, who was later granted the title of Count of Cadagua. A son, Antonio Menchaca Careaga, born in Las Arenas in 1921, was the fruit of this marriage.
In 1921 he purchased two more steamers, the "Nervión" and the "Onsala", which were used to bring coal for the Briquette Factory in Zorroza, which he established in partnership with the Aznars, next to the wharf on Bilbao's river. For this same purpose, he purchased a new steamer, which he named "Briquetas de Zorroza".
Later, he was the owner of the "Banana" and the "Cresalubi", both ships devoted to Spanish coastal shipping, and also the steamer "Cristina Rueda".
He was also the owner of the "Antón", the "Cilurnum" and the "Uribitarte", the latter two boats were his last ones.
During the Spanish Second Republic, he was appointed Honorary Consul of Peru for Bilbao, the foremost location in the North of Spain, a position for which he earned several medals, and which he held until the time of his death, on 11 June 1968.
He transferred the ownership title of the house of his property, in the municipality of Leioa and named "La Boronita", to the Religious Institution "Opus Dei", for use as a school (today´s Gaztelueta School). He also donated one of the family's properties in Plencia for social activities of the parish church.